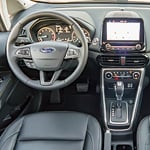 For busy drivers in Hobart, IN, a small time-savings can make a big difference. If you could use a bit of convenience, we recommend the Ford EcoSport. By using smart technology, this popular compact SUV makes your day go a bit more smoothly.
Do you ever need to receive deliveries during the day? Send them right to your EcoSport using the Key by Amazon in-car delivery system. This unique system allows temporary access for the Amazon employee, so your packages stay safe while you're at work or running errands.
If you've ever wished you could take care of errands right from the car, you'll love the EcoSport's Ford+Alexa feature. It brings Alexa into the SUV, so you can do Amazon Prime shopping or get your smart appliances started. Try it out by coming to Paul Heuring Ford for a test drive in the Ford EcoSport today.